Books
A Short Walk On An Ancient Path —
A Buddhist Exploration of Meditation, Karma and Rebirth
Praise for A Short Walk On An Ancient Path: This easy-to-read book takes you on a journey into the Buddha's world view; you will learn practical mindfulness methods of breath meditation, loving kindness and walking meditation to enhance health, well-being and insight. The subtitle describes its major themes: A Buddhist Exploration of Meditation, Karma and Rebirth.
Reviews
…Brian Ruhe has written an excellent introduction to Theravada Buddhism; its central teachings are found in the book, and there are extremely useful meditation guides as well. And it is all presented in a clear and precise manner, which makes it all immensely accessible to both longterm Buddhists and newbies. I sincerely believe that this book can assist its reader to develop the insight and skills necessary to enlightenment, and, as he has an excellent website as well, Brian Ruhe is available for further advice on the ancient path of the Buddha.
– Gary Daubney, 
Buddha Space (full review)
When even the CIA can't decipher many Buddhist books on meditation, this clear yet profound handbook of teachings stands out from the rest. Moreover, it introduces the Dharma teachings of great North American Forest Monks to the general readership for the first time. If you are serious about Nirvana, get this book!
– Ajahn Brahm, author of
Who Ordered This Truckload of Dung?
Brian Ruhe is a long-time Vancouver teacher of authentic Buddhism, not the sugar-coated sentimental kind often marketed in North America. He is clear and engaging, not to mention a nice guy.
– Douglas Todd, Spirituality and Philosophy, Vancouver Sun
Sample Chapters
---
Freeing The Buddha
This book has a fresh approach to Buddhism which stirs up dust in areas that most people have not thought of. There are Buddhist teachers who a would discuss things privately such as Buddhist views on UFOs, Adolf Hitler and the historical Jesus, but they would not give public talks or publish books on such controversial subjects. The author has the courage to do so as he boldly discusses such topics in this book.
Review
I think Ruhe is on to something! In all honesty, I initially bought
Freeing the Buddha
with only a mild interest in what he had to say. However, after skimming through some of it, I am very impressed, particularly with the essays section. Ruhe's writing is very original, creative and seminal. I support him in making his work more accessible to more influential people in the publishing industry. Nowadays, it seems that inflammatory writing is not only hip, but needed, given the dangerously sleepy state of affairs on our planet.
– Teertha Mistlberger, Founder and Director of Shambhala Trainings (West Vancouver, B.C.)
From the Author
Writing this book was a labour of love. My intention was not to reinvent the wheel and write just another introduction to Buddhism. I didn't write this to be just a 'feel good' book. I wrote this because I wanted to help the reader find the truth. I am a truth seeker and this book was written for truth seekers who want to know what Buddhism is and what it is not. Freeing the Buddha is both inspiring and sobering, showing the best and the worst in Buddhism so that you will be an informed Buddhist. – Brian Ruhe
---
Meditation CDs
Guided Meditations for Well-Being
Includes two different guided breath meditations by Brian Ruhe:
26 minutes breathing into the body
22 minutes breath meditation at the nose
Order/Buy: $15 each + $6 postage.
---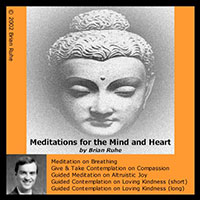 Meditations for the Mind and Heart includes:
Meditation on Breathing
Give & Take Contemplation on Compassion
Guided Meditation on Altruistic Joy
Guided Contemplation on Loving Kindness (10 minutes)
Guided Contemplation on Loving Kindness (20 minutes)
Order/Buy: $15 each + $6 postage.